Are you looking for online therapy? With the use of the internet, mental health treatment can be possible through online therapy which offers new possibilities. Before booking online therapy, you should know the pros and cons of it.
What is Online Therapy?
Online therapy is also known as e-therapy refers to psychotherapy or counseling services provided through the internet. With the help of online therapy, you can connect with a licensed or certified therapist or counselor via any device mobile, tablet, laptop or mac.
Pros of Online Therapy
There are many reasons patients book online therapy. Here we are sharing advantage of online therapy and counseling:
Online therapy may be a comparable effectiveness:

According to research online therapy is more effective for various mental health conditions. Literature review of studies say that online cognitive behavioral therapy (CBT) is more effective as in-person therapy for treatment of depression. Other research says that

CBT

is equally more effective than face-to-face consultation for treatment of anxiety, depression, and social anxiety disorder. 

Best options for remote access:

Online therapy offers mental health treatment remotely. People who live in rural areas, may not have the possibility of any other form of mental treatment because there are less options or no mental health practices in their area.

Accessibility for individuals with physical limitations:

Online therapy offers accessibility for  handicap or disabled persons. With the help of online therapy a therapist practicing out their own house for instance doesn't require setup to accommodate patients of all abilities.

More convenience and affordability:

Online therapy is a more affordable and convenient option. You can take an online therapy session in your comfort zone. You can book your consultation according to a time that is more convenient for you.

A therapist who only treats patients online has fewer costs such as renting office space. Therefore, online therapists offer affordable treatment options for those who are not covered by health insurance.
Online treatment can be more approachable: With the help of online therapy mental health treatment is more approachable. Patients feel more comfortable talking to friends and family which are related to physical mental health issues. Teletherapy may be an important source to help people to learn more about mental health. If you feel that your mental health is well being then online therapy can help you make your psychology more stronger.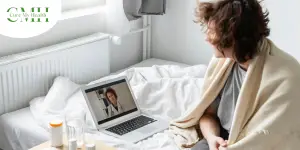 Cons of Online Therapy
While online therapy comes with many advantages and potentially helpful for certain situations, it does not come without risk and disadvantage. These are:
Insurance benefits not covered:

Insurance benefits for e-therapy depends on where you live and the insurance that you have. Most insurance policies don't cover online therapy consultation and some therapists don't accept insurance as payment. This is only a quick payment process.
Many states don't permit out of service providers:

Some states don't allow or permit out of state phycologists to provide service. In this case your therapist must have a license for home as well as state.

In a journal for the APA's Monitor on Psychology, Deborah Baker, a legal expert for the American Psychological Association explained that some psychologists offer service out of state for a limited time duration which only consists of 10-30 days per year.
Leaks privacy, confidentiality & unreliable technology:

Everyone wants to keep their personal information confidential with psychologists but online therapy adds a layer of complexity. Confidentiality is more important for us in online therapy treatment.

Nowadays information is being transmitted online, in this case your information may leak and be hacked.
Lack of response in serious situations:

When you consult with an online therapist, it may be difficult for you to respond quickly and effectively when the situation is going to be worse. For example if patients have suicidal thoughts or suffer from serious tragedy. For therapists, it may be difficult to assist directly.
Not suitable for serious psychiatric illnesses:

e-therapy may be beneficial in some situations but not when it comes to people who require close treatment and in-person treatment.

For instance, if you have a very serious addiction or more severe problem, or complex symptoms of mental conditions, then online therapy is not useful for in-person treatments. The scope of online therapy is limited, so it is not beneficial for complex symptoms and severity.
Ignores physical gesture:

In text-based therapy, your therapists do not see facial expressions, voice signals, or body posture. These all signals may quit to share and therapists do not have a clean picture of your conditions, so they can lack intimacy with patients.

An ethical and legal concern: Through online therapy, therapists can check-up patients anywhere in the world. Some states require therapist licenses and treatment guidelines.It is essential to check your therapist's qualifications and experience before you start consultation and treatment.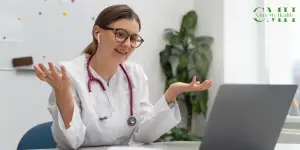 Summing Up:
Online therapy can be more effective, convenient and time saving consultation or treatment process for metal health. The pros offer more accessibility, consultation anywhere and a flexible time schedule. The pros offer confidentiality, technical issues, no insurance benefits and lack of verbal communication. It doesn't mean that online therapy may be beneficial for everyone. It is not appropriate for everyone, this will depend on your condition and severity of symptoms.
Are you interested in trying online, do research before taking online therapy service. We will recommend you read the review, budget and frankly ask questions about your problem. We understand searching the right therapists can take more time, but your research will help you in near future.