For a beginner to therapy, the first online therapy consultation can seem a little bit challenging – especially when you don't know what to expect from therapists. Lots of queries are going on in your mind like what will you do? What do not you say to a therapist in this situation? When you enter a clinic, immediately start spilling your guts to a therapist? What should you say?
Your first online therapy consultation is easy. You can start with basic conversion to start to know your therapist's perspective. You should not start with questions like why you need therapy, your goal is to see how you experience with prospective therapists, and make sure that you feel comfortable with them. You never feel fear about knowing what you are going to say before you get there. A good therapist will make you feel safe, comfortable and understand your problem. He will deliver your conversion in an appropriate way.
Here are a few things that come up during your first online session. Always keep in mind every therapist has their own opinion and in some cases topics take more than one session. It is advisable to be patient and trust the process.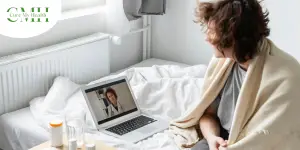 Identity verification:

When you have your first meeting with a therapist, it is important for them to know your identity. Many therapists will ask to see your identity like a driving license or other way to confirm your identity. In my case, I ask my client to upload their ID to the secure patient portal. Once your identity is verified, this process will not repeat the same every week.

Residence confirmation:

This will also be a weekly check-in. As

psychotherapists,

it may be crucial for us to have accurate information about your current location, and ensure that you provide timely assistance whenever you require it. At the time of the therapy session, having your up-to-date address makes it possible for us to get help for need fast.

Ask about a backup plan if technology has failed:

Oh wonders of technology. We all have plans when technology is high and dry! Your therapists must have back-up planned in place. If you are in COVID-19 pandemic, the number of therapists, doctors and health care providers conduct meetings online to follow social distancing guidelines. This can mean that a lot of people are using the server, resulting in less perfect tech conditions, pixelated video, cutting of voice in video & audio and freezing. Fortunately companies will raise the quality of video in my sessions. Unfortunately , I have a back-up plan for improving video issues. Having a back-up plan ensures a smooth and seamless experience.

Look into emergency contacts:

  Your therapist needs to confirm your emergency contacts, the reason behind that they can be contacted for. When you are in any medical or mental health emergency it is crucial that your therapist has accurate and up-to-date contact information for at least one emergency contact.

Confidentiality and consent forms:

Confidentiality play an important role in therapy. To prepare your report, your therapist will ask some questions related to your confidentiality. Firstly your therapist will fill out consent documents either digitally or manually. As per policies you may ask any questions related to your issues make sure to understand policy guidelines, cancellation policy and privacy policy.

Discuss about financials:

If you are choosing self-pay or using insurance, it is crucial to disclose everything, regarding the processes and payment method. To collect payment, your therapist will enter payment through the system. For example, do they allow you to use a credit card and if so,then how will it be done?

Explore the reason behind seeking therapy:

 This will be the time when your therapist goes over the history that will bring you to therapy. Therapist will ask some questions for when it started; how long it's been going one; any important experience in family dynamic and more.

Goal and idea for therapy:

When you have decided to consult therapy because you have an idea and goal for your online therapy. You should share your goals with your therapist. Your therapist must be involved in your vision and help you get there. This may be a helpful process for the therapist and you, both you have ideas of improvement in mental issues and know how therapy will be successful.

Your ability:

Many people have the perception that therapy is a lot of talking about your health issues. But some therapists want to hear what to do well! What do you have about yourself? What things about yourself that make you proud of ? These strengths are the most important to therapy.

Set up your appointment time:

If you and your healthcare provider haven't set a regular time schedule, you will find it in your first session. Some therapists have a regularly scheduled weekly appointment so that the same day and in every week. Punctuality may be beneficial for therapists and you.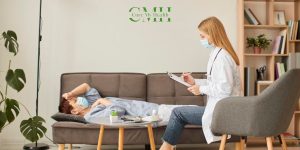 Summing Up:
If you are preparing for your first online therapist consultation is crucial for a successful and beneficial experience. By following these proactive steps you can make a strong set-up for your first online therapy consultation, effective communication between you and therapist and take maximum benefits of therapy experience. Make sure your therapy journey is an active participation that can contribute to a positive experience.